Broadcom Offers Some Details on Baseband Cuts
Thursday, July 24, 2014
Share this article: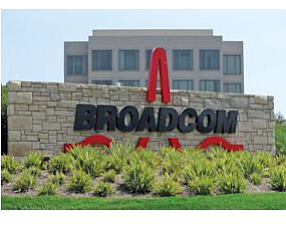 Irvine-based chipmaker Broadcom Corp. plans to cut about 20% of its workforce and consolidate or close 18 locations around the world as part of a restructuring plan prompted by the wind down of its unsuccessful baseband business.
The cost-cutting plan, which includes shedding some 2,500 employees, was detailed by Chief Executive Scott McGregor and Chief Financial Officer Eric Brandt yesterday in a conference call with analysts after the company reported revenue in the recently ended quarter that was in line with Wall Street estimates and adjusted profits that beat expectations.
Broadcom declined to discuss local ramifications and referred questions to an accompanying regulatory filing, which did not provide specific geographic details on the pending cuts and office closures.
"Unfortunately, we do not break the numbers out," a company spokesperson told the Business Journal.
Broadcom currently employs about 2,500 people at its Irvine campus next to the University of California-Irvine. The office is home to corporate personnel, including administrative, marketing, sales, legal and human resources, as well as engineers.
It employed about 12,550 people companywide at the end of 2013, according to its annual report. The company has several design teams across the country, with other California units in Sunnyvale, Santa Clara, San Jose and San Diego.
Broadcom leases a distribution center with engineering design and administrative offices in Singapore as well as design and administrative offices in Asia, Europe and the Middle East. The company also operates sales and marketing offices in the U.S. and several other countries, according to regulatory filings.
Broadcom has already trimmed 250 positions, primarily sales and administration personnel. The company recorded restructuring costs in the recently ended quarter of $23 million, a $130 million charge-off on impaired property, equipment, tools and licenses, and an additional $34 million in inventory write-offs from baseband related products that will no longer be sold.
The restructuring is expected to save the company about $700 million in research and development, and general and administrative costs annually.
Broadcom said it would reinvest about $50 million of these savings into projects in its broadband, infrastructure and connectivity business lines.
The restructuring follows Broadcom's June announcement that it would exit the baseband chip business, a segment dominated by San Diego rival Qualcomm Corp.
Baseband chips are essentially the technical brains of mobile phones.
Broadcom in the last decade spent hundreds of millions of dollars on acquisitions and in research and development to take on Qualcomm in baseband chips, which are more expensive and carry better margins than the chips for Bluetooth, Wi-Fi, and GPS that built Broadcom's name in the mobile phone market.
Broadcom acquired key LTE baseband assets from Tokyo-based Renesas Electronics Corp. in a $164 million deal late last year. The buy included a dual-core LTE chip and brought 1,200 employees—mostly engineers—from Renesas Electronics' floundering mobile division operations in Europe and India. In 2010, Broadcom acquired Santa Clara-based Beceem Communications Inc. for $316 million, largely based on its baseband processor technology that powers essential functions in a phone.
The company aimed to build on early baseband design wins with Nokia Corp. and Samsung Electronics Co., Broadcom's largest customer and the world's biggest smartphone maker.
Samsung and Apple Inc., its second largest customer, have used Broadcom's connectivity chips in their top selling smartphones.
Broadcom is known to have a slew of chips embedded in other Apple products as well, including MacBook Airs and iPods.
South Korea-based Samsung accounted for 21.3%, or roughly $1.76 billion, of Broadcom's $8.3 billion in sales last year. Cupertino-based Apple was Broadcom's largest customer in 2010 and 2011 before Samsung grabbed that designation in 2012.
Apple remains a significant customer, accounting for 13.3% of Broadcom's revenue last year, or roughly $1.1 billion.
Baseband chip sales account for a small portion of Broadcom's annual revenue, with estimates as high as $500 million annually, but held potential as a big growth driver in the coming years as smartphone sales grow in emerging markets and consumers in the U.S. and other mature regions continually update models.
Broadcom shipped its first LTE baseband processor earlier this year, which is carried on Samsung's Galaxy Core LTE, a midrange smartphone released primarily in Europe. It was a significant development as Broadcom became the only supplier besides Qualcomm to ship an integrated LTE processor. Marvell quickly followed suit, introducing its first LTE baseband chip in late February at the Mobile World Congress in Barcelona, Spain.
Broadcom developed its first baseband chip in 2002, but had recently concentrated efforts on catching up on the latest connectivity standard in the segment, known as the LTE—or long-term evolution—network.
Most of its baseband wins have been in low-cost and midrange 3G phones, though, prompting company watchers and investors to question investments in the segment.