Vans' Revenue Up 21%
Friday, July 18, 2014
Share this article: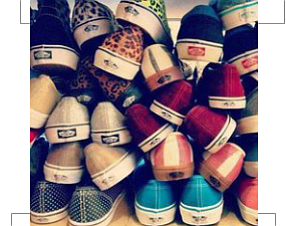 Vans Inc.'s revenue rose 21%, its parent VF Corp. reported in its second quarter financials.
VF's portfolio of outdoor and action-sports apparel brands includes Timberland, The North Face, Kipling and Wrangler, among others.
Cypress-based Vans, a skate shoe and apparel company, posted "strong, double-digit growth across all regions as well as in the brand's wholesale and direct-to-consumer channels," according to VF.
Vans' Asia-Pacific business had a 40% gain in the second quarter that ended June 28, while revenues in the Americas and European regions were up in the "high-teens."
"Our strong second quarter results, led by our outdoor & action sports coalition, put us right in line with our full-year outlook and long-term growth commitments," VF Chief Executive Eric Wiseman said in a statement. "Looking toward the second half of 2014, our powerful brands and platforms have us well-positioned to continue our momentum and deliver another record year for VF and its shareholders."
Greensboro, N.C.-based VF reported companywide second-quarter revenue up 8% to $2.4 billion. Its second-quarter profit was $220 million, up from $201 million a year earlier.
VF shares closed down 1% on Friday to a market value of about $26.23 billion.