Taco Bell Revenues Down
Thursday, July 17, 2014
Share this article: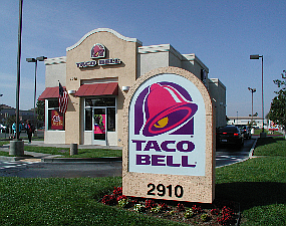 Irvine-based Taco Bell Corp. saw a 3% dip in revenue in the second quarter compared with a year earlier, according to results from parent Yum Brands Inc.
Total revenue from Taco Bell to Yum including franchise and license fees and income declined from $452 million in the second quarter of 2013 to $439 million in the same period in 2014.
Yum Brands, based in Louisville, Kentucky, also owns the Pizza Hut and KFC fast-food chains. Its three chains combined for a 10% gain in revenue in the quarter to $3.2 billion.
The overall company's gains were based on improved results in China this year, the company said.
Taco Bell has about 6,000 restaurants, most in the U.S., that count an estimated $7.8 billion in annual sales.
Yum began breaking out its results for the U.S. and most other markets by division—Taco Bell, KFC and Pizza Hut—in January. The totals exclude operations in China and India.
Taco Bell introduced a breakfast menu in March, which added items today including a steak burrito with doubled protein content and a limited test of a Greek yogurt menu choice.
Greg Creed, Taco Bell's current chief executive, is slated to oversee operations of all three Yum divisions when he takes the same title at the parent company at the start of next year.
Taco Bell recently named President Brian Niccol as successor to Creed as chief executive of the chain.