El Pollo Loco Sets IPO Price
Tuesday, July 15, 2014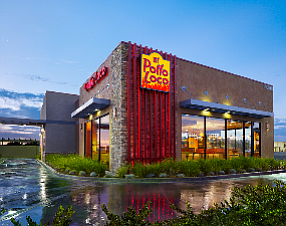 Costa Mesa-based El Pollo Loco Holdings Inc. has set the terms for its planned IPO, according to reports.
The chain plans to raise $100 million by offering 7.1 million shares in a range of $13 to $15, giving it a fully diluted market value of $531 million.
Proceeds from the IPO will be used to repay debt, according to the company's registration statement with the Securities and Exchange Commission.
El Pollo Loco is owned by private equity firms Trimaran Capital Partners in New York and Los Angeles-based Freeman Spogli & Co.
It has more than 400 restaurants and has spent the past few years retooling store operations and its executive team under Chief Executive Steve Sather.
El Pollo Loco most recently reported annual systemwide sales of $657.6 million and revenue of $315 million with 401 locations including 53 in Orange County.
The company plans to list its stock on the Nasdaq Global Select Market under the ticker symbol "LOCO."
The offering is expected to price during the week of July 21.