Medical Weight Loss Co. Gets $4 Million
Thursday, July 10, 2014
Share this article: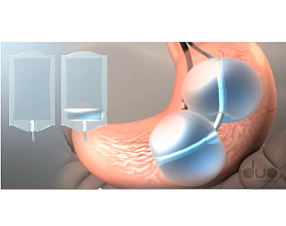 San Clemente-based ReShape Medical received $4 million in debt financing to support its efforts to gain approval for a medical device to treat obesity.
The funding was reported in a regulatory filing.
ReShape makes the ReShape Integrated Dual Balloon System, which uses balloons filled with saline to reduce the capacity of a patient's stomach.
During the procedure, a guide wire is inserted nonsurgically via the mouth through an endoscope, according to the company. Two uninflated balloons are sent over the guide wire into the stomach, filled with saline and sealed. Six months later, the balloons are drained and removed.
There are no incisions, sutures or scars in the two outpatient visits needed for the procedure, and placing and removing the balloons happens under "conscious sedation," the company said.
On July 1, ReShape submitted a Premarket Approval Application for the device to the U.S. Food and Drug Administration.
The recent funding is from current investors and is meant to take ReShape through the PMA process.
It has been available in Europe since December 2011, according to the company.