Midday Stock Roundup
Wednesday, July 2, 2014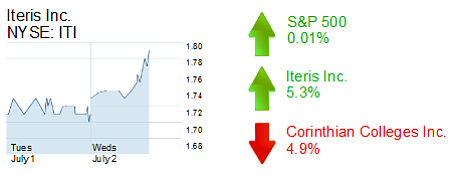 Major indices were flat in midday trading Wednesday.
The S&P 500 was up 0.01% at 1,973.61.
The Dow Jones Industrial Average was up 0.08% to 16,969.49, while the Nasdaq was up 0.04% to 4,460.23.
The yield on a 10-year Treasury bond rose 2.34%% to 2.62%.
The price of gold was up 0.30% to $1,330.60.
TECHNOLOGY
Santa Ana-based Iteris Inc. was up 5.3% to $1.79 and a market cap of $59.6 million. The Orange County Transportation Authority awarded the company a $1.4 million contract to synchronize traffic signals, place underground fiber optic cables and install cameras to monitor traffic conditions along Newport Blvd.
EDUCATION
Santa Ana-based Corinthian Colleges Inc. was down 4.9% to $0.27 and a market cap of $24.4 million. The for-profit school operator missed its deadline for a deal with the U.S. Department of Education on the sale or wind-down of programs. The education department said it expected an agreement in a few days.