Big Crowd for 5 CFO Honorees
Wednesday, January 29, 2014
Share this article: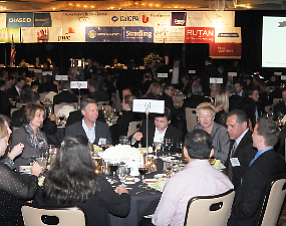 Members of the Orange County business community's financial sector gathered Tuesday to laud five winners of the Business Journal's 7th Annual CFO of the Year Awards.
The event drew a crowd of about 800 for dinner and ceremonies at the Hotel Irvine Jamboree Center.
Kevin Manion of Aliso Viejo-based liquor and wine wholesaler Young's Market Co., received a lifetime achievement award for a career that also has included stints at Hostess Brands LLC and Nestle USA.
"It's great to be here," said Manion, who entertained the crowd with an acceptance speech punctuated by dead-pan humor. "Young is one of those biggest companies you never heard of here in Orange County delivering happiness to drinking-age boys and girls."
The other winners, by category, were:
Public Company: Frank Martell of CoreLogic Inc. in Irvine
Private Company: Stephen Dixon of Fluidmaster Inc. in San Juan Capistrano
Not-for-Profit Organization: Donald Voska of Goodwill of Orange County in Santa Ana
Rising Star: Kent Ratzlaff of Niagara Bottling LLC in Ontario/Irvine
Profiles of the winners will appear in the Business Journal's issue of Feb. 10.
---