UCI Business School Moves Up on FT Rankings
Tuesday, January 28, 2014
Share this article: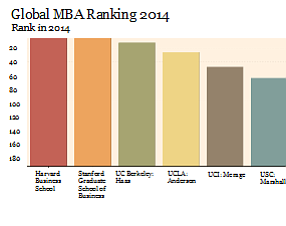 The Financial Times ranked University of California Irvine's Paul Merage School of Business 48th in the world, a six-spot improvement from last year.
"The Merage School set a goal in our strategic plan to be recognized among this group of schools," Rajeev Tyagi, school's interim dean, said in a news release. "The 2014 report is the realization of that goal and confirms the outstanding progress we have made towards our primary objective: creating a world-class business school with leading-edge research and faculty."
The British daily newspaper surveyed some 10,900 alumni from 153 business schools to complete the 2014 rankings. The results were based on factors such as reported alumni incomes three years after graduation; career progress; professional mobility globally; the number of faculty members with doctorate degrees; gender balance among faculty and students; and alumni recommendations.
The UCI business school ranked No. 1 in the world for employing highest percentage of female faculty— 47%. It also tied for No. 4 in the U.S. for percentage of female students enrolled—39%.
Harvard Business School ranked No. 1 globally, while Financial Times placed UCLA Anderson School of Management on No. 26, a three-spot drop from a year earlier. The University of Southern California's Marshall School of Business took No. 65, while Rady School of Management at UC San Diego ranked No. 84.
Harvard, the Stanford Graduate School of Business, the Wharton School at the University of Pennsylvania and London Business School have made up top four spots—switching positions among themselves year-to-year—since the publication started the rankings in 1999.