Reiff Wins Another Golden Mike
Tuesday, January 28, 2014
Share this article: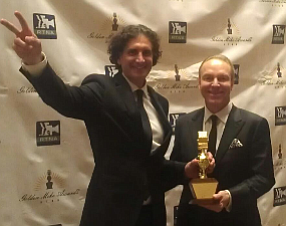 "SoCal Insider with Rick Reiff," a weekly news show that airs on Costa Mesa-based public television station PBS SoCal, received two Golden Mike awards from the Radio & Television News Association of Southern California, Saturday in Universal City.
Show producer and anchor Reiff is a former editor and columnist for the Orange County Business Journal, and remains an executive editor with the publication.
SoCal Insider was named best news public affairs program for the third-straight year, winning the honor for an episode that featured a debate over gun bans, a Muslim woman who was forced by sheriff's deputies to remove her religious headscarf and an interview with Riverside County's District Attorney Paul Zellerbach.
SoCaL Insider's reporter David Nazar took the second Golden Mike for best individual writing for a news report on City of San Bernardino's bankruptcy proceedings.
"David and I are focused on looking forward, figuring out ways to better cover the six county, 19-million-person Los Angeles media market, but it's always nice when our peers acknowledge the work we've already done," Reiff said.
The show competed in Division B, along with other Southern California stations employing 49 or fewer full-time journalists, administrative, technical and support staff.