Auto Dealers Honor Wilson
Monday, January 27, 2014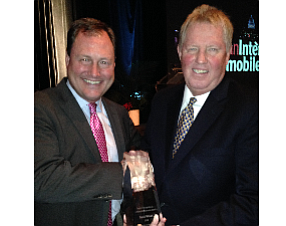 David Wilson, owner and chief executive of Wilson Automotive Group in Orange, received the 2014 David F. Mungenast Lifetime Achievement Award from the American International Automobile Dealers Association, Monday during their 44th Annual Meeting and Luncheon in New Orleans.
"I can think of no one more deserving of this year's Lifetime Achievement Award than David Wilson," Cody Lusk, association's president said in a news release. "Along with building a successful dealership group, he has also invested considerable time and resources to better the lives of his employees and those in Orange County. His commitment to the industry as well as his community is truly an example everyone in our industry can look up to."
Wilson was lauded for building one of the ten largest automotive groups in the country. His company has more than 2,000 employees working at 17 dealerships—seven under the Toyota brand, three Lexus and Honda dealerships each, and one dealership per brand for Acura, Ford, Mazda and Volkswagen.
Wilson has been a board member of Orange County Automobile Dealers Association and the Orange County Council of the Boy Scouts of America's Board of Directors. He currently serves on the Chapman University's Board of Trustees.
Toyota of Orange, one of Wilson's dealerships, is the originating sponsor of the "Round Orange Race," which has raised $250,000 for the Orangewood Children's Foundation, and also fundraises for scholarship for Chapman University students.