Pimco Parlor Game: Gross as Goliath?; El-Erian 'Miscast'?
Saturday, January 25, 2014
Share this article: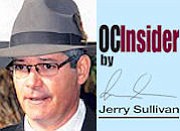 Speculation on what Mohamed El-Erian's abrupt departure from Pimco really means became the world's largest parlor game last week, ranging from Munich to Wall Street to coastal OC, where mobile phones buzzed with best guesses … This one from a veteran Pimco watcher: "Two things seem certain: Despite the company's efforts to diversify into equities and to recruit the talent to make that happen, Pimco remains a bond fund, and it remains Bill Gross' bond fund" …
Bolstering that view: Bonds still account for 99% of Pimco's nearly $2 trillion in assets under management … Another perspective had El-Erian worn out by the uniquely demanding management style of Gross, a Vietnam-era Navy vet who's known for running the tightest of ships as he charts a course for hundreds of billions of dollars in other people's money …
Others had El-Erian bailing out on Gross...