OC Gains Jobs, Jobless Rate on Steady Decline
Friday, January 24, 2014
Share this article: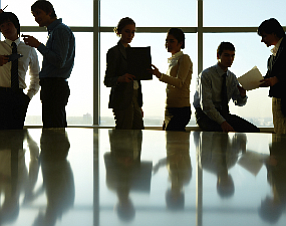 Orange County employment grew by about 2.4% last year, boosted by December gains that helped push the unemployment rate down to 5.2% from 5.7% in November and 6.8% a year earlier.
Local businesses added 3,600 jobs in December, and the county now has 1,461,100 jobs, according to the state Employment Development Department.
The trade, transportation and utilities sector made 2,100 hires last month, more than any other business industries here, for a total of 259,100 jobs. Retail traded accounted for more than half of the growth, a "normal seasonal increase," according to the state agency. The sector grew about 2% over the year.
Local construction companies added 2,000 jobs last month, for a total of 84,700. The sector has added more than 11,000 jobs over the past year, a growth of about 15%.
Professional and business services firms posted gains of 1,100 jobs. The sector has 267,900 jobs, up 3% year-over-year. December's gains came from hires at professional-, scientific- and technical-services companies, which offset job losses in administrative and support services, including temporary staffing firms.
The number of government jobs fell by 900 to 146,000 last month. The loss came from seasonal job cuts in local government education during the holiday breaks. Government jobs decreased by nearly 3% over the past year.
Manufacturing companies cut 300 jobs, for a total of 162,300. The sector has grown at a similar pace as the county overall, at about 2.3%.
California's unemployment rate at the end of December was 7.9%, down from 8.3% in November and 9.8% a year earlier.
Nationwide, the jobless rate was 6.5% last month, versus 6.6% in November and 7.6% a year ago.