Memorial Names CFO, Expands Treasurer's Role
Friday, January 24, 2014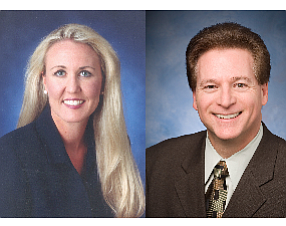 MemorialCare Health System has named a new chief financial officer and added a title to its corporate treasurer's title.
Karen Testman is the new chief financial officer at the Fountain Valley-based healthcare system. Prior to her appointment, she served as MemorialCare's senior vice president of financial operations. She has also served as chief financial officer at two MemorialCare hospitals: Orange Coast Memorial Medical Center in Fountain Valley and Saddleback Memorial Medical Center, with campuses in Laguna Hills and San Clemente.
MemorialCare said that Rick Graniere now has the title of chief investment officer in addition to his responsibilities as corporate treasurer. Graniere, who spent 13 years as MemorialCare's chief financial officer, has been with the system for 30 years.