OC Auto Dealers Post 10.6% Sales Gain for 2013
Friday, January 17, 2014
Share this article: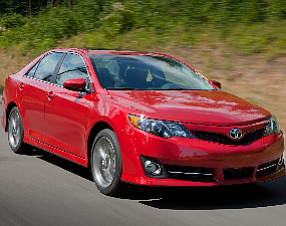 Sales of new cars and light trucks at Orange County auto dealers increased 10.6% in 2013, according to a year-end report from the Newport Beach-based Orange County Automobile Dealers Association.
Registrations of new vehicles, which generally reflect local sales, totaled 165,478, compared with 149,630 vehicles in 2012. Cars accounted for 103,125 sales, a 9.8% increase, while light trucks added up to 62,353 and 12% uptick in sales.
The report indicated the sales growth was higher than the 7.5% improvement nationwide, but lower than 13.9% increase recorded in Los Angeles County.
The OC sales figures exceeded 7.6% increase projection OCADA made for 2013.
"Orange County new vehicle sales in 2013 were the best since 2007," said John Sackrison, executive director of OCADA. "We predict continued strong and steady growth in 2014 driven by substantial new products and historic affordability."
The 2013 sales tapered off at the end of 2013. OC auto dealers sold 9,170 cars and 5,641 light trucks in December, for a total of 15,332 vehicles—up 3.5 % from same period a year earlier.
Domestic brands made biggest strides in December with a 15% increase in sales, while European brands reported a 10.6 % decline. Japanese and South Korean automakers reported 5.7% and 7.6% increase in sales, respectively.
Detroit's Big Three — General Motors Corp., Ford Motor Co. and Chrysler — also led the OC market in terms of a percentage increase in 2013, selling 32,601 vehicles for a 15.6% increase.
Japan-based automakers notched the higher overall sales, with 82,186 vehicles sold for a 12.7 % year-to-year gain.
Mazda Motor Corp., which has its North American operations in Irvine, and Subaru of America Inc. posted largest gains in 2013—41.4%, and 38.6% respectively. They had similar increases in December, showing 48% and 32.7% increase.
South Korean brands had the lowest year-over-year sales volume, selling 17,380 vehicles in OC, for a 3.7% increase in sales. European automakers sold 33,311 vehicles, a 4.8% uptick.
OCADA forecasts a 6% sales growth in 2014. The group said consumer debt levels and economic concerns were among the factors that would dampen the pace of gains compared with 2013.