Wanted: Best Places to Work for OCBJ's Lists
Tuesday, January 14, 2014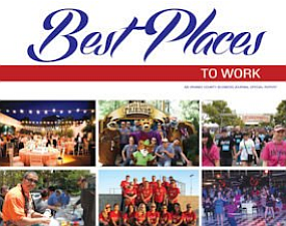 Is your workplace great?
We want to know.
The Business Journal is working on its annual lists of the best places to work in Orange County.
The lists are set to appear in July as part of a Special Report covering employers that make our ranking.
The Business Journal is in the process of soliciting employers to take part in our selection process, which involves a two-part survey of employers and workers.
Perks
What's in it for you?
Bragging rights, for one. Your company will be part of a select group of employers recognized for their treatment, recruitment and retention of employees. The lists stand to be a source of pride for employers that can help with employee morale and recruiting.
Making our lists also brings good exposure to clients, customers, bankers, vendors and peers.
We're considering just about all types of employers in the county: locally based companies, subsidiaries of companies based elsewhere, professional-services firms, banks, government agencies, nonprofits, hospitals and universities.
Requirements
Employers must have at least 15 workers and been in business for at least a year.
They are ranked by category: small (15 to 49 workers); medium (50 to 249 workers); and large (250 or more).
Go to www.bestplacestoworkoc.com for details about our lists and information on how to enter your company in the rankings.
There's no cost to enter.
There is a nominal fee for any company that opts to use paper instead of electronic surveys.
Surveys
Employers are given two surveys.
The employer survey requires information on policies, practices, benefits and demographics, and is filled out by management.
The employee engagement and satisfaction survey questions workers on their employer's leadership, planning, culture, training, pay and benefits, as well as other areas.
Employers will be asked to provide email contacts for workers. All gathered information is confidential and won't be released to any third parties.
The Business Journal's lists only will include basic employment and benefits information about employers. Our stories on the employers will be general profiles.
Specific comments and other details of the surveys won't be made public. Employers that go through the process but don't qualify won't be cited in any way.
Best Companies Group
The Business Journal is working with Harrisburg, Pa.-based Best Companies Group on our lists, as we have in years past.
Best Companies is known for producing similar lists for business journals and magazines across the country. It has a track record we feel is up to our standards.
Survey reports, if desired, are available for purchase from Best Companies Group.
We'll be soliciting employers to be surveyed through March 21. Employers and employees will be queried in the weeks after.
A timeline with all the 2014 Best Places deadlines is available at www.bestplacestoworkoc.com. Contact Research Director Dana Truong at (949) 833-8373, ext. 247, or truong@ocbj.com for more information.
You also can get more details from Jackie Miller of Best Companies Group at (877) 455-2159 or jackiem@bestcompaniesgroup.com.