OC Hotels Up in November
Friday, January 10, 2014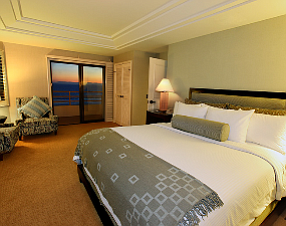 Orange County hotels notched overall gains in key industry measures in November even as Anaheim—its biggest submarket—ran counter to the trend.
Hotels here saw their overall daily rate rise 4% from a year earlier to $150.98.
The increase was led by the Newport Beach and John Wayne Airport submarkets, each of which saw 7.8% growth in their rates, to $206.38 and $112.67, respectively.
Huntington Beach also saw sizable gain, with its average daily rate up 7.3% to $200.54.
Countywide, occupancy rose 1% to 67.71%.
That was led by a 13% gain in Huntington Beach to 68.80%.
Meantime, the Anaheim market saw its occupancy fall 3.8% from the year ago period to 67.54%.
Revenue per available room— a key industry measure that multiplies occupancy by the average daily rate—countywide was up 5.1% to $102.23.
Huntington Beach led the gains, up 21.2% to $137.97.
Anaheim's revenue per available room fell 1.7% to $104.75.