Wanxiang Adds $10M to Bid for Fisker
Thursday, January 9, 2014
Share this article: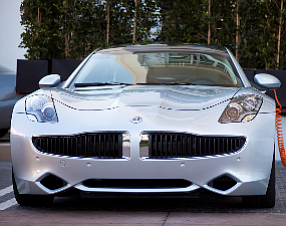 A competing offer for Anaheim-based Fisker Automotive Inc. was sweetened with an additional $10 million.
Wanxiang America Corp. said in court documents filed Wednesday that it would increase its purchase price of the luxury hybrid automaker to about $35.7 million.
The Wanxiang bid is going up against Hybrid Technology LLC, which is affiliated with Hong Kong billionaire Richard Li.
Hybrid paid $25 million for Fisker's Department of Energy loan late last year following the automaker's Chapter 11 bankruptcy filing in November.
Fisker was awarded a $529 million DOE loan, using $192 million of it before it was suspended in 2011 after the automaker missed certain sale and production milestones.
Wanxiang earlier this month presented a plan to the Fisker creditors' committee that lays out a strategy to resume production of the Karma sedan in Finland, but gradually move it back to a manufacturing facility in Michigan owned by startup VL Automotive LLC.