Vizio Introduces Ultra High-Def TVs
Tuesday, January 7, 2014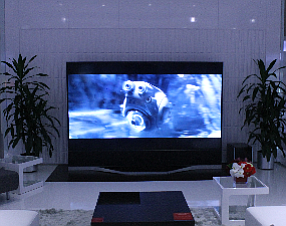 Irvine-based Vizio Inc. introduced its first line of ultra high-definition TVs on Monday during private meetings with media on the eve of the International Consumer Electronics Show in Las Vegas, which opens today.
The company's P-Series Ultra HD Full-Array LED Smart TV collection allows consumers to stream Ultra HD content through apps such as Netflix, which recently announced it will be producing what's called native 4K content, essentially the highest resolution on the market today.
It took Vizio nearly two years to develop the processor and chips to produce the clear and crisp images in the latest generation of pixel improvement.
The company is a latecomer to an emerging segment that's expected to draw a lot of attention this week during the largest tech fest in the country.
Orange-based Westinghouse Digital LLC joined the likes of Samsung, Sony and LG in releasing its first ultra high-definition models last year.
Vizio product manager Aaron Dew said the company waited to debut such a model until enough 4K content was available for consumers.
"That's one of the reasons why we waited until 2014 to launch an ultra HD line," he said. "It really wasn't ready until this year. Consumers are going to be ready for it."
Vizio has made its name offering quality products at a reasonable price thanks in large part to its distribution network that includes big-box retailers such as Walmart, Target and Costco.
Expect a similar strategy when the P-Series debuts later this year.
"Expect to see Vizio aggressive on pricing," Dew said. "That's how we go to market."
The company didn't release retail prices for the ultra high-definition models.
Vizio, which posted sales of about $3 billion in 2012, says it has sold more than 3.2 million smart HDTVs since 2010.