Quiksilver Pushes Into Hotels
Friday, January 3, 2014
Share this article: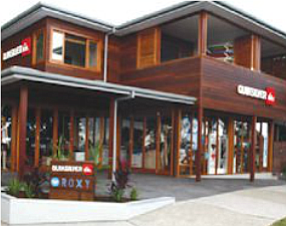 Huntington Beach-based apparel manufacturer and retailer Quiksilver Inc. is making a play in the hotel business.
The action sports company inked an exclusive license agreement with Matteson Capital, which is looking to raise some $250 million in a private offering for Newport Beach-based MC Hospitality Fund LLC.
MC Hospitality Fund operates as Quiksilver Hotels & Resorts International.
A release from Alpha Strategies Investment Marketing, which has an office in Newport Beach and holds the marketing contract for the fund, said money raised will be spent "over the next three to five years [on] the acquisition, repositioning, development, and operation of active lifestyle hotels and resorts throughout the world's most popular travel and leisure destinations."
The release also said that Quiksilver Hotels & Resorts properties will be designed around the surf-inspired culture associated with the Quiksilver brand.
Quiksilver entered the hospitality business last year when it opened Quiksilver Holiday Rental Apartments in Byron Bay on Australia's eastern coast. The Quiksilver-branded vacation rentals were called a "one-off" project at the time by a former company spokesperson, who declined to address chatter that it was involved in a hotel project near its headquarters.
Quiksilver Chief Executive Andy Mooney has discussed on earnings calls last year the company's push to do licensing deals under a turnaround strategy that has added new executives to its ranks and a renewed focus on core brands Quiksilver, Roxy and DC.
Quiksilver shares were up about 1% in afternoon trading Friday to a market value of $1.51 billion.