Midday Stock Roundup
Friday, February 28, 2014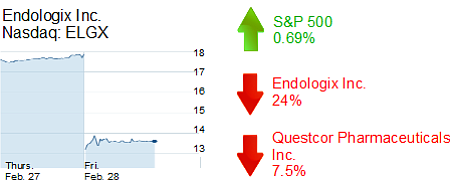 The S&P 500 rose 0.69% to 1,867.01 in afternoon trading Friday.
The Dow Jones Industrial Average was up 0.72% to 16,390.07, while the Nasdaq was up 0.38% to 4,335.34.
The yield on a 10-year Treasury bond rose 1.36% to 2.68%.
The price of gold was off 0.68% to $1,322.80 per ounce.
HEALTHCARE
Irvine-base medical device maker Endologix Inc. shares slumped about 24% to $13.59 for a market value of $863.45 million. Oppenheimer & Co. Inc. lowered its rating on the company's stock from "outperform" to "perform," while Stifel, Nicolaus & Co. lowered its price target from $20 to $17. Endologix on Thursday guided below consensus estimates for the full year.

Anaheim-based drug maker Questcor Pharmaceuticals continued its slide from Thursday, down about 7.5% to $62.38 for a market value of $3.67 billion. The Food and Drug administration said it is reviewing lab test results for Questcor's core drug H.P. Acthar gel, a day after the company's stock fell about 8% when short seller Citron Research alleged Acthar was at risk of being taken off the market.
Irvine-based medical device maker Edwards Lifesciences Corp. rose about 3% to $70.46 for a market value of $7.69 billion.
CLEAN TECHNOLOGY
Newport Beach-based Clean Energy Fuels Corp. shares were off about 13% to $8.45 for a market value of $755.08 million. The company reported fourth-quarter results on Thursday that missed analyst expectations on revenue and profit.
MANUFACTURING
Newport Beach-based agriculture products maker American Vanguard Corp. was down about 4% to $22.13 for a market value of $634.25 million. The company reported a decline in fourth-quarter net sales and income compared to a year earlier. Chief Executive Eric Wintemute said the company has been affected by unfavorable weather conditions that have caused customers to pull back on purchases.
RESTAURANTS
Huntington Beach-based BJ's Restaurants Inc. was up about 3% to $27.86 for a market value of $786.40 million. Restaurant operators, from fast food to casual dining, were generally up on Friday.