Clean Energy Misses Q4 Estimates
Thursday, February 27, 2014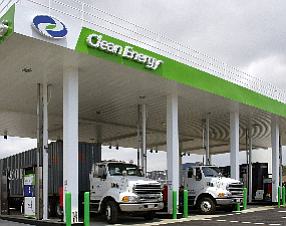 Newport Beach-based Clean Energy Fuels Corp. on Thursday reported revenue and adjusted profits for the fourth quarter that missed Wall Street expectations.
The country's largest developer and operator of natural-gas stations posted sales of $85 million, down 14% from a year earlier and including $22.7 million in construction revenue related to the sale of two compressed natural-gas stations.
Analysts had forecast sales of about $92.6 million.
The company posted a loss of $23.8 million, compared to a $21.1 million loss a year ago.
Wall Street was expecting a loss of about $17.8 million.
Investors sent Clean Energy shares down about 2.5% in after-hours trading to a market value of about $866.7 million.
Clean Energy said it delivered 55.5 million gallons of compressed, liquefied and renewable natural gas in the fourth quarter, up 7.3% from a year ago.
Revenue for the year topped $352.5 million, up 5.5% over 2012. It posted a loss of $41.6 million, narrowing its losses from $65.9 million.
The company last year delivered 214.4 million gallons, up about 10% over 2012.
Clean Energy has struggled for years to become profitable due to a minimal number of stations offering natural gas; slow commercial adoption; and cheaper fuel alternatives.
It hopes to change that by building what it dubs "America's Natural Gas Highway," which calls for the construction of some 150 liquid natural-gas fueling stations across the U.S.
Legendary oilman and corporate raider T. Boone Pickens cofounded Clean Energy as a tiny part of his Dallas-based Mesa Petroleum about 25 years ago.
He split it off in the late 1990s.