OC Auto Sales Up 6.6% in January
Wednesday, February 26, 2014
Share this article: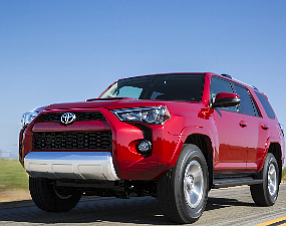 Sales at Orange County auto dealers increased 6.6% in January to 15,062 vehicles, according to Newport Beach-based Orange County Automobile Dealers Association.
The figures are based on new retail registrations in OC, which included 9,102 cars and 5,960 light trucks.
Japan-based brands accounted for nearly half of last month's sales here, at 7,485, up 11.6% from a year earlier.
Toyota Motor Corp. led all automakers locally with 2,684 vehicles sold in January, a 12.3% increase from the same period last year. Mazda Motor Corp., which has its North American operations in Irvine, sold a total of 462 vehicles, a 9% uptick. Cypress-based Mitsubishi Motors North American Inc. had 63 sales locally, down 36.4% from a year earlier.
Domestic brands sold fewer vehicles than their Japanese competitors¬—3,093¬—but posted a bigger year-over-year increase—18.8%.
Chrysler Group LLC's Ram was up 100% with 132 vehicles sold locally, followed by Dodge, which sold199 vehicles, for a 45.3% year-over-year increase. Jeep sold 355 vehicles, a 27.7% uptick. Ford Motor Co. sold 1,237 vehicles for a 9.4% increase.
Both European and South Korean automakers combined for single-digit drop in sales, accounting for 3,174, and 1,310 cars sold in the county, respectively.
Fountain Valley-based Hyundai Motor America Inc. sold 907 vehicles here, up 7.5% from the same period last year. Kia Motors America Inc. in Irvine sold 403 vehicles from OC dealers, down 22.5% from a year ago.
Mercedes sold 1,076 vehicles in OC, about even with last year, followed by BMW at 822 vehicles, a 5.3% drop. Audi accounted for 304 vehicles, down 13.6%, while Volvo sold 43 vehicles, a 48.8% dip. Italy-based Fiat posted strong sales gains—41% for a total of 55 vehicles sold here.