Oakley Plans Brand Campaign
Tuesday, February 25, 2014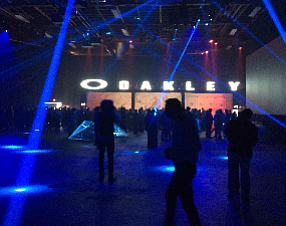 Oakley Inc. announced plans for a global branding campaign dubbed "Disruptive by Design" during an invitation-only gathering at RED Studios in Hollywood.
The event also marked Foothill Ranch-based sunglass and apparel brand's 30th anniversary.
Among the guests were Oakley-sponsored professional athletes, including snowboarder Shaun White, skier Lindsey Vonn and golfer Bubba Watson. The crowd of about 1,000 saw a digital presentation of brand's history of "game-changing products" along with new products in currently in development, including a sneak peek at a new line of Prizm eyewear.
Colin Baden, Oakley's chief executive, paid homage to company's founder James Jannard, and celebrated the brand's growth to an estimated $1.5 billion in sales under current owner Luxottica Group SPA of Italy.
See the March 3 print edition of the Business Journal for more details.