Midday Stock Roundup
Tuesday, February 25, 2014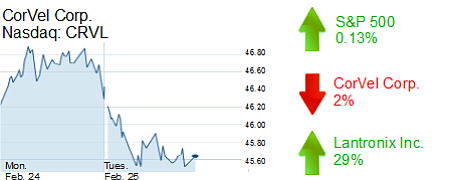 The S&P 500 rose 0.13% to 1,850.08 in afternoon trading Tuesday.
The Dow Jones Industrial Average was up 0.20% to 16,239.09, while the Nasdaq was up 0.07% to 4,296.00.
The yield on a 10-year Treasury bond was off 1.64% to 2.70%.
The price of gold rose 0.32% to $1,342.30 per ounce.
SERVICES
Irvine-based CorVel Corp., which provides workers' compensation software and services to the healthcare industry, fell about 2% to $45.52 for a market value of $952.46 million. Corstar Holdings Inc. sold 7,967 CorVel shares between Feb. 20 and 24, according to a filing with the Securities and Exchange Commission.
TECHNOLOGY
Shares of Irvine networking equipment maker Lantronix Inc. rose about 29% to $3.01 for a market value of $44.14 million. The company said Tuesday that its firmware, or software installed on memory chips, allows connectivity between some of its products and Google Analytics.
Newport Beach patent licensor Acacia Research Corp. was up about 5% to $15.28, after closing up about 5% on Monday. Acacia had a recent market value of $739.78 million.