Taco Bell Breakfast Set for March 27 Rollout
Monday, February 24, 2014
Share this article: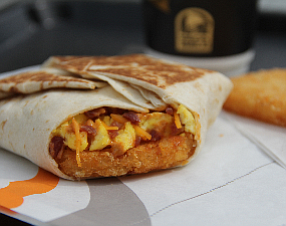 Irvine-based Taco Bell Corp. released additional details on its expansion into breakfast that will be supported by what company executives called the largest advertising campaign in company history.
Taco Bell spent $281.8 million in 2012 on advertising, according to Kantar Media. It's uncertain how much of this year's ad budget will go toward the new breakfast menu.
The fast-food chain, part of Louisville, Ky.-based Yum! Brands Inc., said in a call with media on Monday that its 13-item breakfast menu will be available at most Taco Bells on March 27.
Taco Bell has nearly 6,000 restaurants nationally and sales of about $8 billion. Breakfast will be available at more than 5,500 restaurants on the launch date.
Stores serving breakfast will add a minimum of three employees.
Breakfast will be served at most restaurants between 7 a.m. to 11 a.m. or earlier.
Radio and TV spots by Deutsch L.A. along with in-store marketing materials and packaging by Draftfcb's Los Angeles and Orange County offices will support the breakfast rollout. There will also be social media and public relations components of the campaign.

Breakfast prices and details about a customer-loyalty program, also mentioned during the call, are not being disclosed at this time for competitive reasons, executives said.
Breakfast is seen as a key area of focus this year for the chain and is part of a larger strategy announced in 2012 to double the company's revenue to about $14 billion and add 2,000 restaurants by 2022.
Taco Bell opened more than 100 restaurants last year and President Brian Niccol said it plans to open more than 200 this year, a pace he said is likely to continue "for a while."
The company's popular Doritos Locos Tacos, with three flavors now out since the original's launch in 2012, represented the start of an aggressive growth strategy to appeal to younger Millennials—a group generally under the age of 30. Doritos Locos Tacos along with the Cantina Bell Menu items, which introduced new flavors such as cilantro rice and corn salsa, helped add about $1 billion to the company's sales.