Mobilitie Lands Deal in St. Louis
Tuesday, February 18, 2014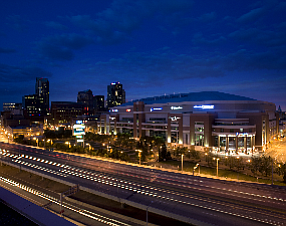 Newport Beach-based Mobilitie LLC has landed another high-profile deal to outfit the home of the St. Louis Rams football franchise with wireless infrastructure.
The company on Tuesday announced that it was selected to install a new distributed antenna system at Edward Jones Dome in downtown St. Louis.
The system is aimed to improve the wireless connections for NFL fans, and convention, show and concert goers.
The new antenna system is expected to be completed before the kick-off of the 2014 football season in early September. It's intended to help qualify the Edward Jones Dome for a designation as a top-tier venue, which holds big ramifications for the Rams' future in St. Louis or a possible move to Los Angeles or another market.
Terms of the football team's current lease with the St. Louis Convention & Visitors Commission call for the agency to make substantial renovations to bring the dome into the top 25% of the league's 31 stadiums.
Some minor changes have been made in recent years, including score board improvements and panel replacements, but the team maintains that the stadium is nowhere near the estimated $700 million renovation it would need to hit that mark by 2015, when its lease expires.
That would open the door for the franchise, which left Los Angeles in 1994, to relocate.
Government officials in Missouri and St. Louis have indicated no intention to fund the stadium going forward, a sentiment shared by local and state taxpayers.
The long-running possibility of Los Angeles attracting another NFL team was fueled last month when reports surfaced that Rams owner Stan Kroenke had purchased land near the Forum in Inglewood for an estimated $90 to $100 million.
The Edward Jones Dome has an attendance capacity of 67,224 people, and includes 120 suites and 6,773 club seats.
Mobilitie is believed to be the country's largest supplier of DAS for stadiums and other sporting venues where tens of thousands of smartphone customers can check online highlights, post videos or pictures to Facebook or other social networking sites, and make calls within a dedicated area.
Other locations featuring the company's products include the Honda Center in Anaheim, Tropicana Field, home of MLB's Tampa Bay Rays; Arrowhead Stadium, the home field of the NFL's Kansas City Chiefs; and Churchill Downs, home of the Kentucky Derby.