Midday Stock Roundup
Tuesday, February 18, 2014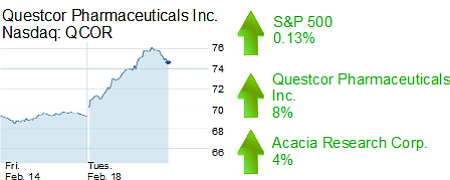 The S&P 500 rose 0.13% to 1,841.08 in afternoon trading Tuesday.
The Dow Jones Industrial Average was down 0.09% to 16,139.58, while the Nasdaq was up 0.64% to 4,271.38.
The yield on a 10-year Treasury bond was off 1.82% to 2.70%.
The price of gold rose 0.39% to $1,323.80 per ounce.
HEALTHCARE
Anaheim drug maker Questcor Pharmaceuticals Inc. was up about 8% to $74.88 for a market value of $4.41 billion. The company announced on Friday a quarterly cash dividend of $0.30 per share.
TECHNOLOGY
Newport Beach-based patent licensor Acacia Research Corp. was up about 4% to $15.05 for a market value of $751.39 million. The company said on Friday that one of its subsidiaries signed a patent licensing agreement with Braeburn Systems LLC. Acacia is expected to report results for the fourth quarter and the full year on Thursday.