Kia K900 Starts at $60K
Monday, February 17, 2014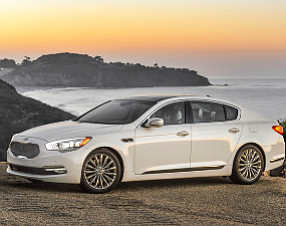 Irvine-based Kia Motors America Inc. set a starting price of about $60,000 for the V8 version of the new K900 luxury sedan, which it's calling the flagship of the brand's U.S. vehicle lineup.
The K900, which had an ad on the Super Bowl in advance of its launch, is set to go on sale sometime this quarter.
Available features, depending on the model, include sensors and cameras to help drivers park, a vehicle warning system if a driver veers too close to a lane marker and a color LCD screen.
The automaker said a V6 version will be available for sale "at a later date" and didn't include information on pricing.