Vans Tops $1.7B, Becomes VF's Second Largest Brand
Friday, February 14, 2014
Share this article: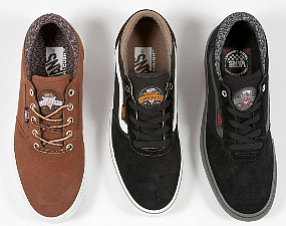 Cypress-based skate shoe and apparel company Vans Inc.'s performance was called out on Friday as one of two milestones marking 2013 for its parent.
The local company's revenue rose 17% to more than $1.7 billion for the 12 months through Dec. 28, and it became the second largest brand for parent VF Corp. of Greensboro, N.C.
VF's largest brand is outdoor clothing company The North Face, which reached its own milestone last year, with global revenue topping $2 billion.
The recap on Friday included full-year and fourth-quarter results for VF.
The company doesn't usually break out revenue performance for its brands.
Vans' fourth-quarter revenue grew 14%, with double-digit growth in the Americas, Europe and Asia Pacific regions.
VF's Outdoor & Action Sports division, which includes Vans and The North Face, had revenue for the quarter of $1.9 billion, up 12%.
The division's full-year revenue grew 9% to $6.4 billion.
VF said it expects Vans to have revenue percentage growth in the mid-teens this year.
VF ended 2013 with a profit of $1.2 billion, up 11% from a year earlier. Net sales rose 5% to $11.3 billion.
The results missed analyst projects, and investors sent the company's shares down about 6% in afternoon trading Friday to a market value of $24.76 billion.