Hearing on Fisker Sale Postponed
Friday, February 14, 2014
Share this article: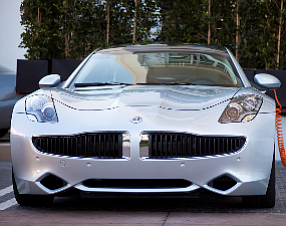 A hearing to approve the sale of bankrupt luxury hybrid automaker Fisker Automotive Inc.'s assets was moved to Tuesday, according to a court filing.
An auction of the Costa Mesa-based company's assets started and was originally scheduled for bankruptcy court approval on Friday.
The automaker had attracted two bidders.
Hybrid Tech Holdings LLC, affiliated with Hong Kong billionaire Richard Li, became Fisker's senior secured lender when it paid $25 million for Fisker's Department of Energy Loan last year. It has said it was willing to pay $55 million for the automaker.
Wanxiang America Corp., part of China-based auto parts company Wanxiang Group Corp., had bid $35.7 million.
Both bidders have said they would like to resume production of the Fisker Karma and bring manufacturing to the U.S.