LA Fitness Boost for Augie's Quest
Thursday, February 13, 2014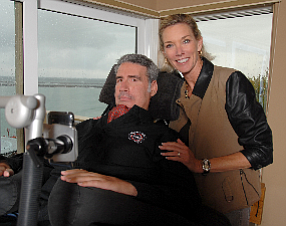 Irvine-based Fitness International LLC plans to host group fitness classes at more than 500 of the company's locations as part of a fundraiser for Augie's Quest, a non-profit founded by Corona del Mar resident Augie Nieto.
Nieto is a fitness industry entrepreneur and executive who is battling ALS—also known as Lou Gerhig's Disease—while overseeing the foundation's search for a cure to the disease. Augie's Quest, which is affiliated with the Muscular Dystrophy Association, has raised about $40 million in the past eight years to support the Cambridge, Mass.-based ALS Therapy Development Institute and other efforts.
LA Fitness will hold its group fitness events on February 22, 2014, marking the company's fourth in-club event to support Muscular Dystrophy Association's ALS research initiative. The event will be open to public for a minimum donation of $5.
"We are pleased to participate and provide access to both members and non-members for this event," Bill Horner, LA Fitness' senior vice president and chief real estate officer, said in a news release. "They get to experience a great class, in a great club and contribute to a great cause. Truly a win-win all the way around."
ALS is a progressive motor neuron disease that causes complete paralysis. It affects as many as 30,000 Americans at any given time, and no cure currently exists for the disease.
Nieto was diagnosed with ALS eight years ago.