Disney: Parks Revenue Up on Boost in Visitor Spending
Thursday, February 6, 2014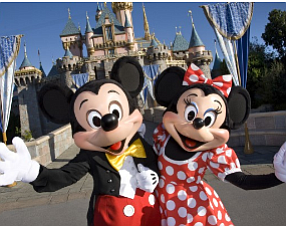 Higher ticket prices and increased spending at Burbank-based Walt Disney Co.'s parks in Anaheim and other U.S. locations helped grow revenue in the December quarter.
Disney does not break out attendance or financial information for its individual parks, but said its parks and resorts division saw revenue rise 6% to $3.6 billion.
The company owns the Disneyland Resort in Anaheim, which includes two theme parks, three hotels, and a shopping and entertainment district.
The higher spending was offset by costs related to the rollout of the company's MyMagic+ online and mobile vacation planning system for guests, the company said of the division's performance.
Disney reported overall results for the December quarter of $12.31 billion in revenue, up 9% from a year earlier, and a 33% jump in income to $1.84 billion.