Taco Bell Growth Leads Corporate Parent in U.S.
Tuesday, February 4, 2014
Share this article: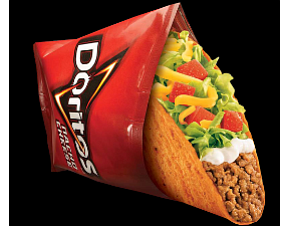 Same-store sales for Irvine-based Taco Bell Corp. grew 3% for the year ended December 28.
The chain's growth was the only gain in the U.S. for parent Yum! Brands Inc. out of Louisville Kentucky. The restaurant operator's other two chains that do business in the U.S.—Pizza Hut and KFC—each saw same-store sales fall 2% for the year.
Taco Bell ended the year with a December-quarter same-store sales gain of 1% for the chain's eighth straight quarterly same-store sales gains.
Pizza Hut and KFC saw same-store sales in the U.S. fall 4% and 5%, respectively, in the quarter.
Yum! Chief Executive David Novak once again called out Taco Bell Chief Greg Creed for the chain's performance last year in an earnings call with analysts Tuesday morning.
"I want to congratulate CEO Greg Creed and the Taco Bell team for being named Advertising Age Marketer of the Year in recognition of our Live Mas campaign, and, even more importantly, being the only restaurant company to receive top tier rankings in QSR Magazine's independent customer survey on the three operational measures that matter most: speed, accuracy and hospitality. Greg has done a sensational job leading the way," Novak said during the call.
Novak added that Taco Bell's breakfast menu will launch nationally in the first half of the year.
A brand restructuring announced last year went into effect at the start of the year for Yum that saw consolidation of the KFC, Pizza Hut and Taco Bell international and U.S. businesses in an effort to globalize strategies for each brand. Yum!'s China and India business continue to operate as their own divisions at the company.
Yum! reported better-than-expected overall earnings but missed on consensus revenue estimates.
Yum! shares were up 8% in afternoon trading Tuesday to a market value of $31.92 billion.