More Passengers, Fewer Flights at JWA in November
Tuesday, December 30, 2014
Share this article: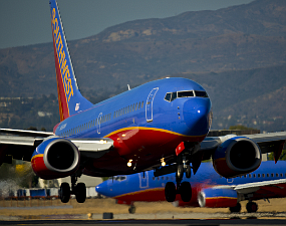 John Wayne Airport reported an increase in total passengers of about 4% in November compared with a year earlier even as the number of commercial flights—take-offs and landings—declined by about 2%.
More passengers on fewer flights continues a recent trend at JWA, as airlines fill planes more efficiently.
The airport saw more than 767,000 passengers in November, compared with about 739,000 a year earlier. There were 99 fewer commercial flights in the same period: 6,258 versus 6,357 in November 2013.
The trend of more passengers on fewer flights also bears out year-to-date. JWA notched a 1.6% increase in passengers, to 8.6 million, through November. The number of commercial flights fell by 5.5% to 71,000 over the same period.
The airlines with the most fliers for November 2014 were Southwest Airlines with about 331,000 passengers, United Airlines at about 109,500, and American Airlines at around 103,000.