Midday Stock Roundup
Monday, December 29, 2014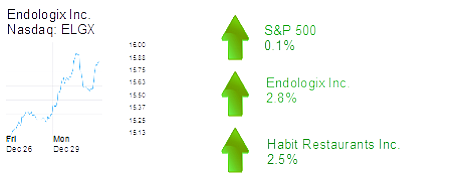 The S&P 500 was up 0.1% to 2,090.51 in midday trading.
The Dow Jones Industrial Average was flat at 18,041.98, and the Nasdaq was flat at 4,808.46.
The yield on a 10-year Treasury bond declined 1.4% to 2.22%.
The price of gold declined 1.1% to $1,183.
HEALTHCARE
Irvine-based device maker Endologix Inc. was up 2.8% to $15.81 and a market cap of about $1.1 billion. Piper Jaffray raised its price target on the stock from $18 to $21, with a rating of "overweight."
RESTAURANTS
Irvine-based Habit Restaurants Inc. was up 2.5% to $34.05 and a market cap of about $881 million. New York-based competitor Shake Shack Inc. filed for an initial public offering that could value that company at $1 billion, pulling fast-casual stocks higher.
TECHNOLOGY
Irvine-based memory products maker Netlist Inc. was up 9.9% to 78 cents and a market cap of about $32.4 million. The company said today that the United States Patent and Trademark Office denied three petitions by SanDisk and Diablo Technologies for a review of Netlist patent claims.
Irvine-based clean-fuels company BlueFire Renewables Inc. was up 25% to 5 cents and a market cap of about $11.3 million. It said Kodiak Capital Group LLC had agreed to purchase $1.5 million worth of its common stock over the next two years.