Midday Stock Roundup
Monday, December 22, 2014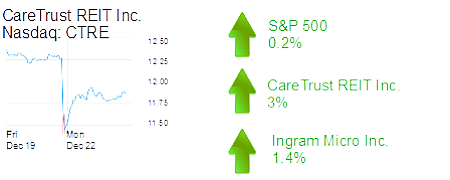 The S&P 500 was up 0.1% to 2,073.26 in midday trading.
The Dow Jones Industrial Average was up 0.5% to 17,904.11 and the Nasdaq was up 0.3% to 4,778.18.
The yield on a 10-year Treasury bond declined 0.2% to 2.17%.
The price of gold declined 1.4% to $1,179.70.
HEALTHCARE
San Clemente-based CareTrust REIT Inc. was up 3% to $11.80 and a market cap of about $265 million. The owner of senior housing and healthcare facilities bought a 30-bed facility in Woodbury, Minn., for $7.2 million.
SERVICES
Santa Ana-based Ingram Micro Inc. was up 1.4% to $28.41 and a market cap of $4.4 billion. The technology distributor said it had amended its credit agreement to increase total lender commitments y by more than 50%, from $940 million to $1.5 billion. The amendment also allows for lower pricing and fees, and extends the maturity date of the agreement, Ingram Micro said.