Midday Stock Roundup
Tuesday, December 16, 2014
Share this article: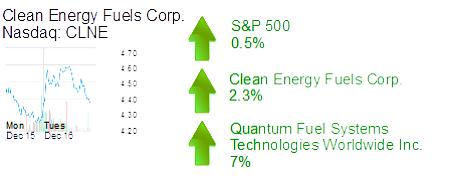 The S&P 500 was up 0.5% to 1,999.11 in midday trading.
The Dow Jones Industrial Average was up 0.6% to 17,279.47 and the Nasdaq was up 0.1% to 4,610.09.
The yield on a 10-year Treasury bond declined 2% to 2.08%.
The price of gold declined 0.8% to $1,198.
TECHNOLOGY
Newport Beach-based Clean Energy Fuels Corp. was up 2.3% to $4.40 and a market cap of $396 million. The natural gas fueling station operator announced agreements that include an $8.1 million contract with the Jacksonville (Fla.) Transportation Authority to convert 100 diesel fuel buses to compressed natural gas. Clean Energy said it added a net of 74 new stations this year and now owns, operates or supplies 535 facilities in 42 states. However, shares have lost two-thirds of their value year-to-date.
Lake Forest-based Quantum Fuel Systems Technologies Worldwide Inc. was up 7% to $2.31 for a market cap of about $53.7 million in a second day of high-volume trading and price increases. Shares closed up 17% Monday after the natural gas tank maker announced a new product partnership, and trading volume was more than twice its 90-day average.
RESTAURANTS
Irvine-based Habit Restaurants Inc. was down 4.2% to $33.25 and a market cap of about $825 million in a second day of declines. Yesterday was the first day analysts could weigh in on the stock after its IPO; they set a consensus of "hold" and shares have dropped 20% in two days.