Midday Stock Roundup
Friday, December 12, 2014
Share this article: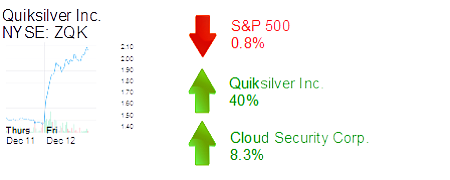 The S&P 500 declined 0.8% to 2,019.62 in midday trading.
The Dow Jones Industrial Average was down 1% to 17,405.86, and the Nasdaq fell 0.4% to 4,688.90.
The yield on a 10-year Treasury bond declined 4% to 2.1%.
The price of gold declined 0.1% to $1,224.50.
RETAIL
Huntington Beach-based Quiksilver was up 40% to $2.07 and a market cap of $354 million. The surf apparel manufacturer and retailer reported a smaller year-over-year loss for its most recent quarter after markets closed yesterday.
TECHNOLOGY
Newport Beach-based Cloud Security Corp. was up 8.4% to about 3 cents a share and a market cap of $3.3 million. The mobile Internet security provider agreed to a 1:100 reverse stock split and the acquisition by Goldenrise Development Inc. in Santa Fe Springs of 92% of the resulting 12 million shares.