Midday Stock Roundup
Thursday, December 11, 2014
Share this article: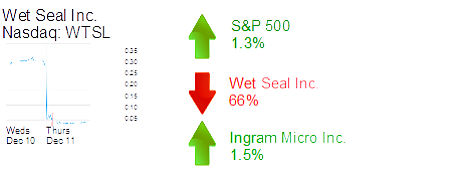 Major stock indices were up strongly in midday trading on higher retail sales numbers.
The S&P 500 was up 1.3% to 2,053.16. The Dow Jones Industrial Average was up 1.2% to 17,734.28. The Nasdaq was up 1.5% to 4,753.11.
The yield on a 10-year Treasury bond was up 1.8% 2.21%.
The price of gold was flat at $1,230.
RETAIL
Foothill Ranch-based apparel retailer Wet Seal Inc. was down 66% to 9 cents and a market cap of $8 million on a poor quarterly report and a warning that it might file bankruptcy.
SERVICES
Santa Ana-based technology products distributor Ingram Micro Inc. was up 1.5% to $27.29 and a market cap of $4.3 billion. It said it would sell $500 million of senior unsecured notes and use $385 million to repay debt and the remaining proceeds for general corporate purposes. Ingram has announced two acquisitions of foreign companies this month.
RESTAURANTS
Irvine-based fast casual burger chain Habit Restaurants Inc. was up 10% to $41.53 and a market value of about $1.1 billion on moderately high volume and a news report that the company was breaking out of its "IPO base" price level of $35 to $40.