El Pollo Loco Closes $200M Debt Deal
Thursday, December 11, 2014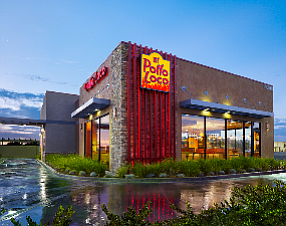 Costa Mesa-based El Pollo Loco Holdings Inc. said today it closed on a new $200 million lending agreement that cuts its interest costs by about $7 million a year.
The fast-food chicken chain parent company previously owed about $189 million and said it will now owe about $165 million.
It said the refinancing reduced its interest rate by 2.5 to 3 percentage points.
President and Chief Executive Steve Sather said the move will "strengthen our capital structure" and give "additional flexibility to execute our development strategy."
The company plans to open 16 new company-owned sites and 11 franchised ones in 2015. Currently it has about 400 restaurants.
Most of its locations are in California.
El Pollo Loco had previously refinanced its debt in October 2013, when interest payments were about $39 million a year. It incurred a $21 million prepayment penalty at that time.
By the time of its initial public offering this past July it was paying about $12 million a year in interest on debt of $290 million. This most recent refinancing means the chain now has only about $4.5 million in annual interest payments.
El Pollo Loco had systemwide sales of $657.6 million in 2013. It traded at a recent market cap of about $830 million.