Catholic Diocese Gets $20M Pledge
Wednesday, December 3, 2014
Share this article: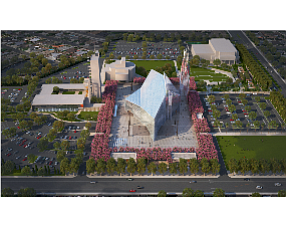 The Roman Catholic Diocese of Orange said today its foundation received a pledge of $20 million from an undisclosed individual for its Christ Cathedral campus, the former site of the Crystal Cathedral in Garden Grove.
The pledge is to the Orange Catholic Foundation, which raises money for the diocese. The diocese bought the site in 2012 and the foundation began raising money that year to renovate the 34-acre parcel, and for other projects.
Some 24,000 donors have pledged or given about $105 million so far, with about $40 million to go for all projects, the diocese said.
It said its goal for the land is to create "a center of faith, culture, ecumenical outreach, and service to the materially poor" in the county.
The diocese unveiled plans for the campus and its seven buildings in September. The cathedral is expected to open in 2017.