$1 Million Grand Prize in Wienerschnitzel Sweepstakes
Tuesday, August 26, 2014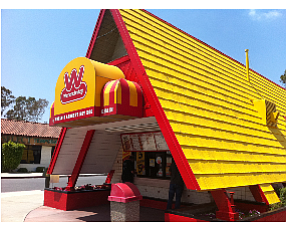 Wienerschnitzel is offering $1 million as the grand prize in its latest "Cash in on a Corn Dog" sweepstakes.
The hot dog chain, owned by Irvine-based restaurant operator Galardi Group Inc., has imprinted some of its corn dog sticks with "instant wins," such as a free corn dog or mail-in cash prizes. The customer who matches two sticks, each stamped with one of the sweepstake words—"wiener" and "schnitzel"—wins the grand prize.
Other sticks bear a code customers can use to enter the sweepstakes online for a chance to win $10,000. Those who follow Wienerschnitzel on Twitter and Instagram; share the game with friends; or join the "Wiener Lovers" Email Club can earn the chance to make additional entries.
The sweepstakes will be promoted via TV and radio advertising, email and online marketing, social media and in-store marketing.
Galardi Group had about $230 million in sales last year, according to a Business Journal estimate, with Wienerschnitzel's 350 stores accounting for most of the revenue.
The company recently started a Visionary Department with a focus on marketing to Millennials.