El Pollo Loco Signs for 20 Units in Texas
Friday, August 22, 2014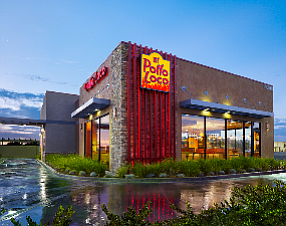 Costa Mesa-based grilled chicken chain El Pollo Loco Inc. has signed a multibrand operator to develop 20 franchised locations in Houston and San Antonio.
Fremont, Calif.-based AA Pollo Inc. is the new franchisee. It's owned by Anil Yadav, who owns and operates 262 Jack in the Box, Sizzler, and Denny's restaurants in California and Texas. More than 80% of the restaurants are Jack in the Box.
El Pollo Loco previously said Houston would be its next new market. AA Pollo will be the first franchisee there. It also bought six El Pollo Loco locations in San Antonio.
El Pollo Loco said it had identified 80 potential locations in Houston for the chain. It said in a statement that it's in "various stages" of negotiation on 20 sites and wants to add 30 to 40 units a year—eight to 10% growth in number of units—in franchised and company-owned locations.
The company has more than 400 restaurants, most in California, with systemwide sales of $657.6 million last year. It went public July 25 and traded recently at a market cap of $1.1 billion.
About 70% of the company is owned by private equity firms Trimaran Capital Partners in New York and Los Angeles-based Freeman Spogli & Co.