Midday Stock Roundup
Tuesday, August 19, 2014
Share this article: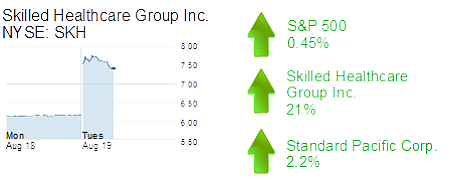 The S&P 500 rose 0.45% to 1,980.52 in midday trading Tuesday.
The Dow Jones Industrial Average rose 0.45% to 16,915 and the Nasdaq rose 0.28% to 4,520.99.
The yield on a 10-year Treasury bond rose 0.46% to 2.40%.
The price of gold fell 0.22% to $1,296.50.
HEALTHCARE
Foothill Ranch-based Skilled Healthcare Group Inc. was up 21% to $7.49 and a market capitalization of $299 million in midday trading. It said it would be bought by Genesis HealthCare in Kennett Square, Pa., move its headquarters there, and trade on NYSE under the Genesis name.
HOMEBUILDING
OC homebuilders were up on a national homebuilding report that showed optimism over jobs and lower mortgage rates. The National Association of Home Builders in Washington, D.C. said the three elements of its index of builders' confidence were all higher: current sales conditions, expectations of future sales and prospective-buyer traffic.
Irvine-based Standard Pacific Corp. was up 2.2% to $8.32 and a market cap of $2.3 billion. Irvine-based Tri Pointe Homes Inc. was up 2.2% to $14.55 and a market cap of $2.35 billion. Newport Beach-based William Lyon Homes was up 3.1% to $26.66 and a market cap of $832.2 million. Aliso Viejo-based New Home Company LLC was up 3.1% to $14.13 and a market cap of $232.4 million.