Creamistry Ice Cream Shops to Franchise
Wednesday, August 13, 2014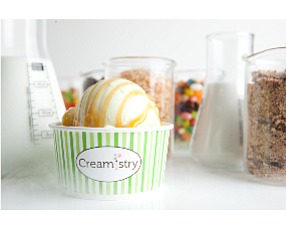 Irvine-based ice cream shop Creamistry plans to franchise and expand its present single site at the Crossroads shopping center on Barranca Parkway.
It's opening a second company-owned location in Cerritos in September with franchise locations coming later in Corona, the Belmont Shores area of Long Beach and Rowland Heights.
Creamistry also wants to expand beyond a dessert-only offering with a deal to sell coffee from Chicago-based roaster Intelligentsia Coffee & Tea at its locations.
A franchise sells for a $40,000 franchise fee plus 6% of receipts in royalties and 1.5% for marketing. A store costs about $325,000 to open, according to the company's website.
Creamistry sells ice cream infused with liquid nitrogen which is said to make the ice cream softer.
Owner Jay Yim opened the Irvine store in September.
It's the second Orange County-based ice cream purveyor to announce plans to franchise after the Lake Forest-based parent company of Farrell's Ice Cream Parlour Restaurants said on Aug. 5 it would do so.