Wet Seal Opens 'Plus' Stores
Tuesday, August 12, 2014
Share this article: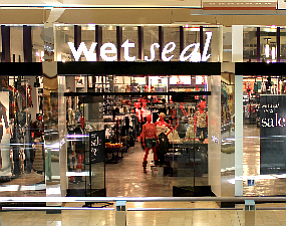 Wet Seal Inc. said it will celebrate the opening of 31 Wet Seal Plus stores across the country on Aug. 16, including one Orange County location at The Shops at Mission Viejo.
The Foothill Ranch-based apparel company discontinued its Arden B brand and converted its 31 Arden B stores into Wet Seal Plus stores. The brand's other 23 locations were transitioned into regular Wet Seals.
The change, in the works since April, has helped Wet Seal "expand in the growing junior plus market," said company's Chief Executive John Goodman in a news release.
The Wet Seal Plus Collection includes a range of categories, including tops, bottoms, jeans, dresses, and jackets in sizes 1X to 3X, and bottom sizes 14 to 24.
"We couldn't be more excited about providing an environment where girls can shop for fashion in every size," Goodman said. "Naturally there is a business opportunity in providing plus-sizes, however it's a great accomplishment to work on a project that you professionally and personally endorse."
The in-store Wet Seal Plus events will feature personal styling sessions, mini-makeovers and free merchandise from Los Angeles-based Cao Cosmetics.
Wet Seal's market value is about $76 million. It operates 532 stores in 47 states and Puerto Rico.