Midday Stock Roundup
Wednesday, August 6, 2014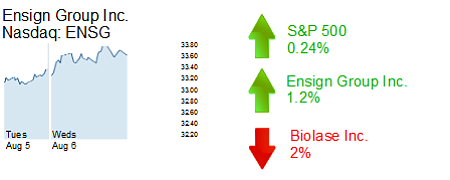 The S&P 500 rose 0.24% to 1,924.86 in midday trading Wednesday.
The Dow Jones Industrial Average rose 0.25% to 16,469.96, while the Nasdaq rose 0.42% to 4,371.03.
The yield on a 10-year Treasury bond fell 0.77% to 2.46%.
The price of gold was up 1.78% to $1,308.20.
HEALTHCARE
Mission Viejo-based nursing home operator Ensign Group Inc. was up 1.2% to $33.81 and a market cap of $751.2 million. The company projected annual revenue of $1.01 billion and $1.25 billion, and annual net income of $50.2 million to $51.2 million or $2.16 to $2.21 per share.
Irvine-based dental laser maker Biolase Inc. was down 2% to $2.27 and a market cap of $85.2 million. Its former Chief Executive Federico Pignatelli resigned from the company's board. Pignatelli, who retains a stake of 4% or so in the company, stepped down from the CEO post in June.