San Clemente Software Company Acquired
Tuesday, August 5, 2014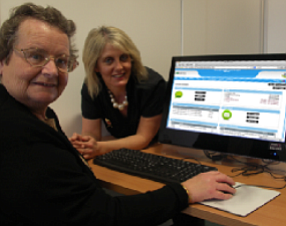 An Austin, Texas company has acquired San Clemente-based Benesan Corp., which makes specialized software for in-home, nonmedical patient care.
Financial terms of Kinnser Software Inc.'s buy were not disclosed.
Benesan's 13 full-time employees in San Clemente and Provo, Utah, will be retained, Benesan said.
Founder and Chief Executive Michael McAlpin established Benesan, which operates under the product brand name ADLware, in 2010 following consultancy and business development roles at software data management provider Altech in Laguna Hills, Accenture and DirecTV.
"I knew what technology was in the marketplace and was available," said McAlpin, now vice president of business development at Kinnser. "There was very little movement in client-based solutions, little integration with sales and marketing tools, and the use of mobile devices was nearly nonexistent."
The company now has more than 350 home-care service providers in the U.S., Canada and Australia as customers.
ADLware software allows customers, patients and their families to access information, such as caregiver scheduling, assessment forms, alerts, billing and tracking referrals, through a Web browser.

Kinnser is a fast-growing software maker with about 165 employees and nearly $30 million in annual revenue. The company has processed more than $5 billion in medical claims and served more than 550,000 patients through its software offerings, according to Chief Operating Officer Christopher Fountain.
The company targeted Benesan because it provided an entrée into in-home, nonmedical care known as private-duty services as it aimed to diversify revenue and be less reliant on Medicare funding.
"Private duty is not something the federal government reimburses," Fountain said.
Kinnser is majority-owned by New York private equity firm Insight Partners, which was launched by former Quest Software Inc. Chief Executive Vinny Smith, a partner at Irvine-based Toba Capital, OC's largest venture capitalist firm.