Ice Cream Operator Farrell's Will Franchise
Tuesday, August 5, 2014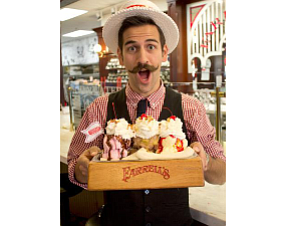 The Farrell's Ice Cream Parlour Restaurants parent company Lake Forest-based Parlour Enterprises Inc. said it will begin franchising.
Parlour has one location in Hawaii, one in Sacramento and six in Southern California, three of those in Orange County: Brea, Buena Park and Mission Viejo.
The company said it plans to expand outside California, including internationally.
Its restaurants are known for a celebratory atmosphere and large portions of ice cream, such as the Zoo Sundae and Pig's Trough Sundae.
The original Farrell's was founded in Portland in 1963 and expanded to 130 locations by 1982, was sold twice, began to decline and closed in 1990.
Parlour Enterprises bought the rights to the brand then began opening new restaurants in 2009.