Midday Stock Roundup
Friday, August 1, 2014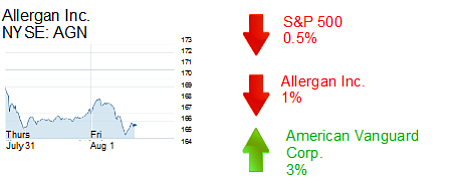 The S&P 500 fell 0.5% to 1,921.29 in midday trading Friday.
The Dow Jones Industrial Average fell 0.5% to 16,476.57, while the Nasdaq fell 0.8% to 4,334.60.
The yield on a 10-year Treasury bond fell 2.78% to 2.49%.
The price of gold was up 1% to $1,295.70.
HEALTHCARE
Irvine-based drug maker Allergan Inc. was down 1% to $164.11 and a market cap of $48.8 billion. The company filed suit today against Laval, Quebec-based Valeant Pharmaceuticals International Inc., New York City-based Pershing Square Management LP and William Ackman alleging insider trading and said the three failed to disclose legally required information. The defendants to the suit are attempting a hostile takeover of Allergan.
MANUFACTURING
Newport Beach-based chemicals maker American Vanguard Corp. was up 3% to $13.07 and a market cap of $376 million. Second quarter 2014 sales and income met analyst estimates despite declines and the company offered positive guidance going forward. Net sales fell to $68.3 million from $86.8 million year-over-year while income was flat at $0.1 million from $8.4 million in the same period last year. The company said surplus inventory and increased fixed factory costs reduced profits in the quarter but expects normal purchasing patterns and lower operating expenses in future quarters.